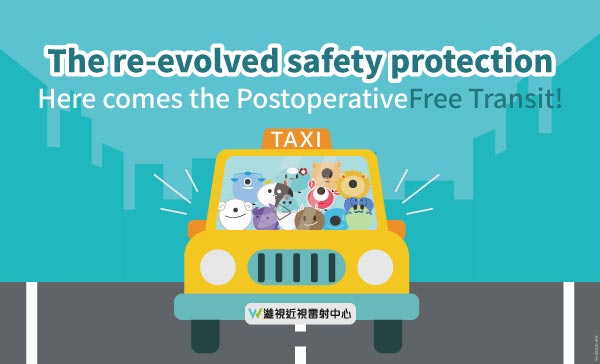 The re-evolved safety protection. Here comes the Postoperative Free Transit!
WishVision attaches much importance to each client's eye health, now we even advanced from stressing surgical safety to the level involving assistance in client's safely returning home.
Event period::
As from today, we provide our clients received the surgery with service of returning home by free taxi.
Event information:
The service is only valid for the same day of the surgery, upper limit of NT$ 300 taxi fare for a single ride bound for the location you designated in Taipei and New Taipei Cities, for one drop-off point only.。
If the taxi fare exceeded NT$ 300, the exceeding amount may be paid in cash, paid by the bound credit card or a EasyCard.
For example, for a taxi ride of NT$ 400, WishVision will pay NT$ 300, only the exceeding amount of NT$ 100 is at your expense.

After you filled out the required information in the riding coupon, the consultant will arrange for you to get a taxi using app, informing you of the taxi number and expected available time.
Please forward the 1st and 2nd copies of riding coupon to the taxi driver. An intimate reminder, please don't take the wrong car!
Breakthrough and new vision in eye healthcare . Experience infinite new life