Refractive Surgery Comparison
Refractive surgery can be categorized into deep ablation and surface ablation. Deep ablation techniques that are currently available include LASIK and SMILE. While PRK and SMART TransPRK are shallow ablation techniques.
LASIK is probably the most well-known of the procedures. It provides a fast post-operative visual recovery with minimal pain, leading to a high patient satisfaction rate. However, due to concerns regarding the risks associated with corneal flaps, non-flap procedures are fast becoming the new trend for laser refractive eye surgery all over the world.
There are currently three main types of refractive surgery available in Taiwan.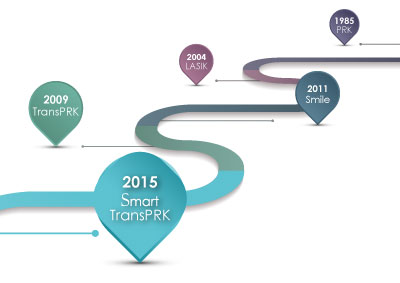 ---
《2004》Femtosecond LASIK
LASIKuses negative pressure suction to immobolise the eye. It then produces a corneal flap using a femtosecond laser.
The flap is lifted off and folded back to allow diopter correction using an excimer laser.
To complete the procedure, the flap is simply placed back on the cornea, without any fixations, and is therefore subject to dislodgment when subject to physical trauma or impact near the eye area.
Return to work the day after the surgery, which is the shortest recovery period out of the three operations.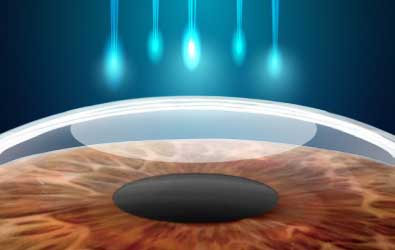 Corneal flap production using femtosecond laser.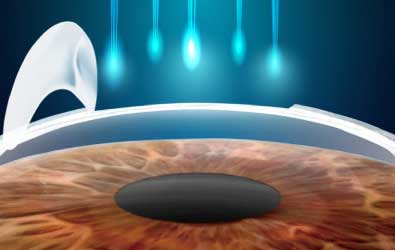 Corneal flap is lifted to expose the stroma, allowing correction of the refractive error using the excimer laser.
---
《2011》ReLEx-smile or Smile
SMILEstands for "Small Incision Lenticule Extraction." It is synononous with ReLEx-SMILE, with ReLEx being short for "Refractive Lenticule Extraction." Unlike LASIK, SMILE does not produce a corneal flap, but instead, creates a lenticule (disc).
SMILE uses negative pressure suction to immobilise the eye. Using a femtosecond laser, it carves out a lenticule consisting of cornea stromal tissue, as well as a 2-4mm incision on the corneal surface to allow access to the lenticule.
The surgeon then enters the eye through the incision, and manually pulls out the lenticule using forceps.
Removing the lenticule changes the shape of the cornea, correcting the refractive error.
The lenticule is very thin, therefore successful extraction of the lenticule is heavily reliant on the surgeon's skills.
Visual recovery generally is slower than LASIK, but faster than SMART TransPRK.
The lenticule has very thin edges, it is much relied on the physician's technique in clipping it out using forceps, being unable to take out the lenticule at one time might be an underlaying concern.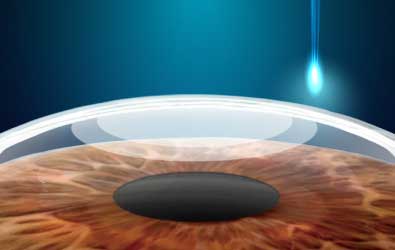 Creating the corneal lenticule and a keyhole incision using femtosecond laser.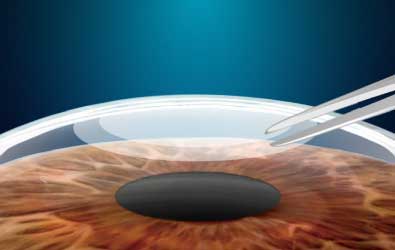 Manual extraction of the lenticule.
---
《2015》Smart transPRK
SMART TransPRK is a surface ablation procedure that does not involve creating a corneal flap, therefore results in a stable cornea post-operatively.
Unlike the previous two procedures, SMART TransPRK does not require suction.
Only an eye speculum is used to hold the eye lids apart, and whole procedure can be performed with an excimer laser.The excimer laser firstly ablates the corneal epithelium then continues, in a smooth single-step procedure, to ablate the corneal stroma to correct the refractive error.
After the surgery, the corneal epithelium naturally regenerates and grows back over the corneal. This may cause visual quality to fluctuate during the first week after surgery.
Smart TransPRK generally has a longer recovery period compared to LASIK and SMILE. However, it is still a preferred choice for many world-renowned ophthalmologists due to its resultant corneal stability and safety.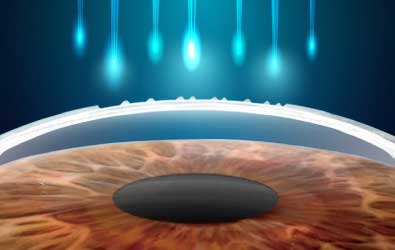 Ablation of corneal epithelium using excimer laser.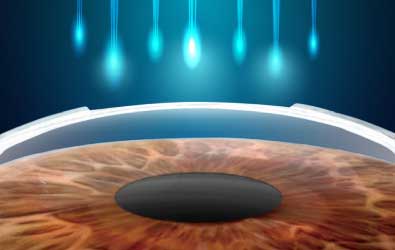 Excimer laser continues on to ablate corneal stroma to correct refractive error.
---
Comparison

Smart transPRK
(2015年)
(Adopted by WishVision)
ReLEX-SMILE
(2011年)
LASIK
(2004年)
Pros:

Single-step, notouch procedure
Preserves the most corneal thickness
Stable structure
Automated procedure with high accuracy
No Flap
Less Dry Eyes

Less post-op pain.
Fast recovery of vision
No flapassociated risks
Less dry eyes

Less post-op pain.
Fast recovery of vision.

Cons:

More post-op inflammation
Post-op Discomfort
Longer recovery with severe myopia

Preserves less cornea thickness
Not suitable for low myopia
Less correction of astigmatism
Heavily reliant on surgeon's skills
Difficult to treat if becomes infected
Can only do once per eye

Preserves less cornea thickness
Flapassociated risks

Types of Refractive Surgery
Surface
Deep
Deep
Accuracy
Very High (0.15um)
High (4um)
High (0.25um)
Procedure
Single Step
2-step
2-step
Contact with Eyes
No
Manual extraction of lenticule

Suction
Manipulation of flap

Flap
NO
No(Lenticule only)
Yes
Corneal Recovery
No Scar
Scar(2~4mm incision)
Scar(15mm incision)
*Caution*
Prolonged recovery in some people
Incomplete extraction of lenticular
Flap dislodgment
Post-op Dry Eyes
Least
Less
Common
Post-op Glare
Least
Possible
Possible
Post-op Dry Eyes
Least
Less
Least
Regression of visual acuity
★★★★★
★★★★★
★★★★★
SMART TransPRK with SmartPulse:
---
Smart TransPRK preserves the most corneal thickness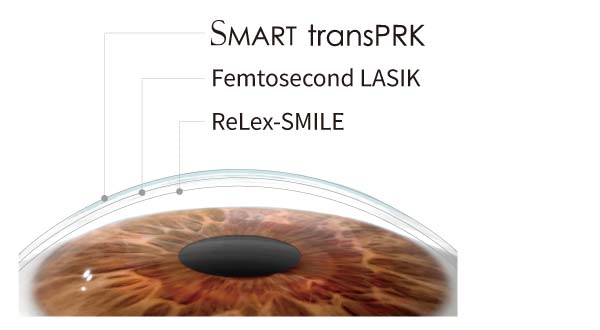 ---
What is the difference between PRK, TransPRK, and Smart TransPRK
TransPRK and Smart TransPRK are both advancement of the original procedure, PRK - Photorefractive keratectomy. While they are all surface ablation techniques, there are some important differences.
PRK involves soaking the cornea in alcohol first, to soften the epithelium, before the doctor scrapes it off using a blunt instrument. The refractive power is then corrected using an excimer laser. The manual removal of the epithelium often results in a painful and prolonged recovery post-operativley.
TransPRK overcame this hurdle and uses the excimer laser to ablate the epithelium, before continuing to ablate the stroma to correct the refractive error. The precision achieved by using a laser greatly reduces the post-operative pain.
Smart TransPRK is TransPRK plus the exclusive SmartPulse technology, developed by the world-renowned German company Schwind, to be performed by their Amaris 1050RS excimer laser. This revolutionary technology results in a smoother post-operative cornea and therefore a shorter recovery period and improved visual quality.
---